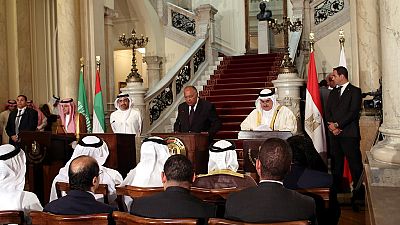 Foreign ministers from Egypt, Saudi Arabia, the United Arab Emirates, and Bahrain on Thursday started a meeting in Cairo on the Qatar crisis hours before a deadline for Doha to meet demands set by the four Arab nations, an Egyptian Foreign Ministry official told Reuters.
The meeting was taking place at al-Tahrir palace to discuss Qatar's reaction to the 13 demands the four countries made after accusing it of supporting Islamist militants and being ally of regional foe Iran, which Doha denies.
The four Arab nations have threatened further sanctions if Qatar does not comply with the list presented through Kuwait about two weeks ago, which Qatar rejected. Kuwait has been acting as a mediator since the beginning of the crisis.
Reuters