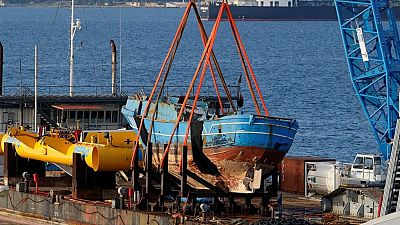 Italian authorities on Thursday recovered a fishing vessel that contained the remains of hundreds of migrants who drowned when the ship sank off the cost of Libya last year.
On that fateful day in April, only 28 survivors lived to tell their story. After the tragedy,169 bodies were recovered while the rest remained trapped in the hull of the vessel.
The fishing vessel was carrying more than 800 migrants, most of whom were African.
The recovery project took two months to complete and cost estimated 9.5 million euros.
Despite such tragedy, illegal migration still persists. Reports indicate that this year alone, more than 2000 people have died in the Mediterranean while trying to reach Europe.