In March 2018, the days leading up to the appointment of a new Prime Minister in Ethiopia were heady – political reforms had been announced and there was an unprecedented prisoner release.
Then a state of emergency supposedly to curb rising insecurity. The then PM, Hailemariam Desalegn, had resigned and the ruling coalition was going through an elaborate process to replace him.
The name of Abiy Ahmed came up as Desalegn's successor and on April 2, 2018 he took his oath of office in the legislature. The rest they say is history …. history in a matter of 100 days.
History at home, history across the Horn of Africa region and beyond and the biggest mark of history this far under his watch, rapprochement with neighbouring Eritrea.
Tuesday July 10, 2018 marked 100 days of Abiy's tenure, Africanews shares 12 photos of his reformist, transformative handling of affairs from Addis Ababa.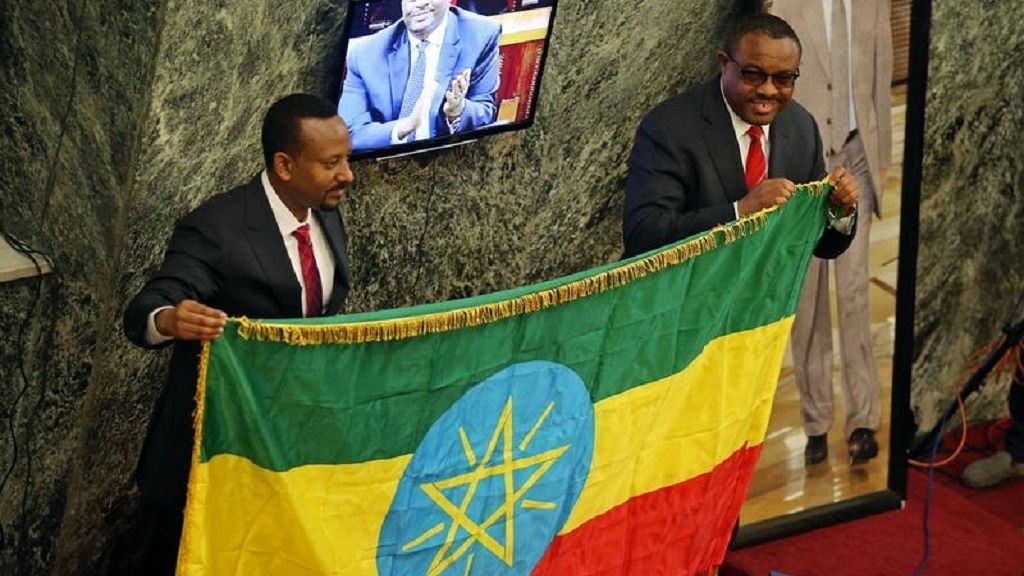 Ethiopia's incoming Prime Minister Abiye Ahmed (L) and outgoing Prime Minister Hailemariam Desalegn hold the national flag during a swearing-in ceremony at the House of Peoples' Representatives in Addis Ababa, Ethiopia April 2, 2018.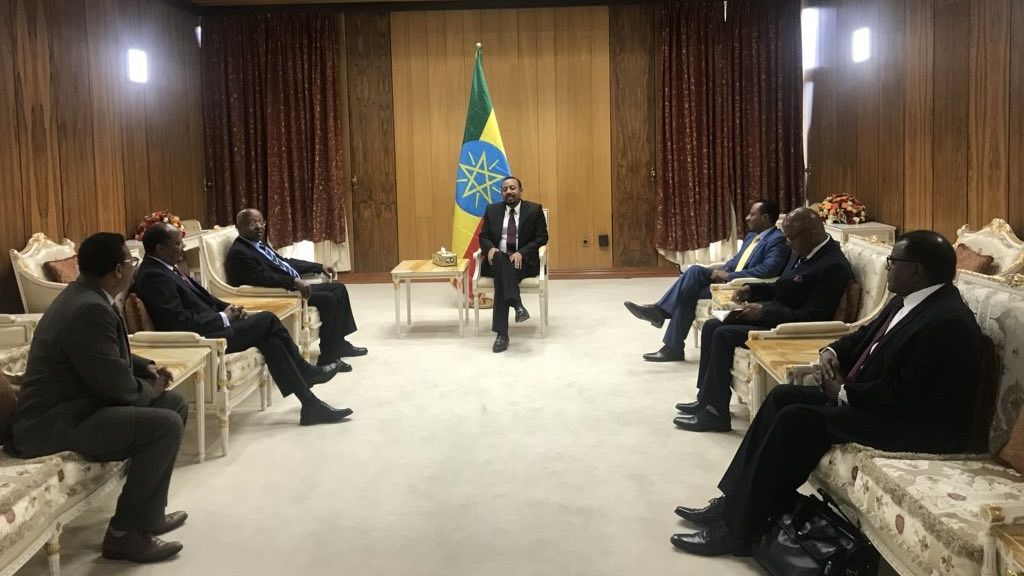 May 24, PM Abiy Ahmed meets with the leadership of an exiled opposition group, Oromo Democratic Front (ODF). The group had agreed to participate in Ethiopia's political discourse peacefully.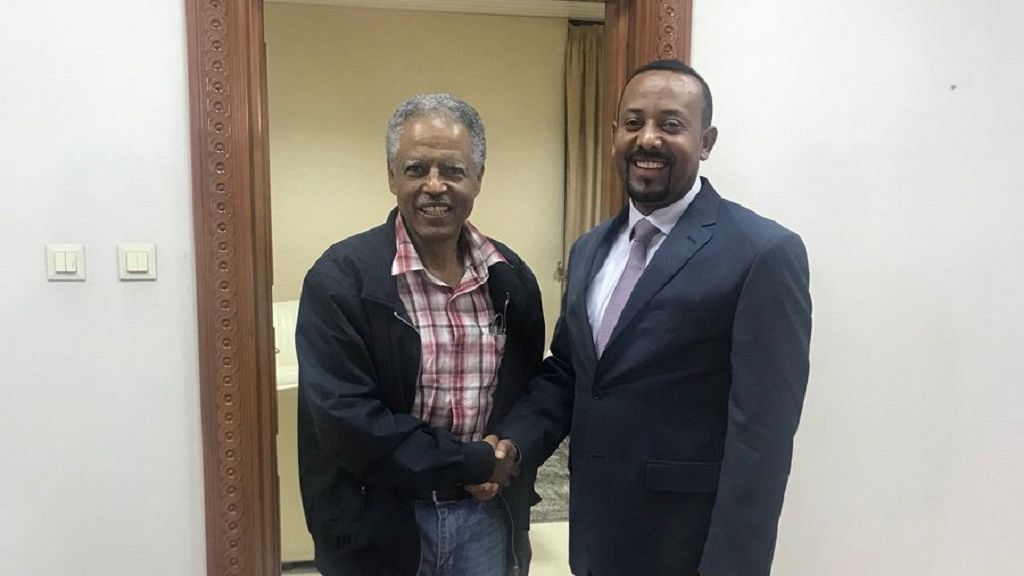 May 30, PM meets with Andargechew Tsige, a high-profile political prisoner who was on death row but was pardoned by the government and subsequently released.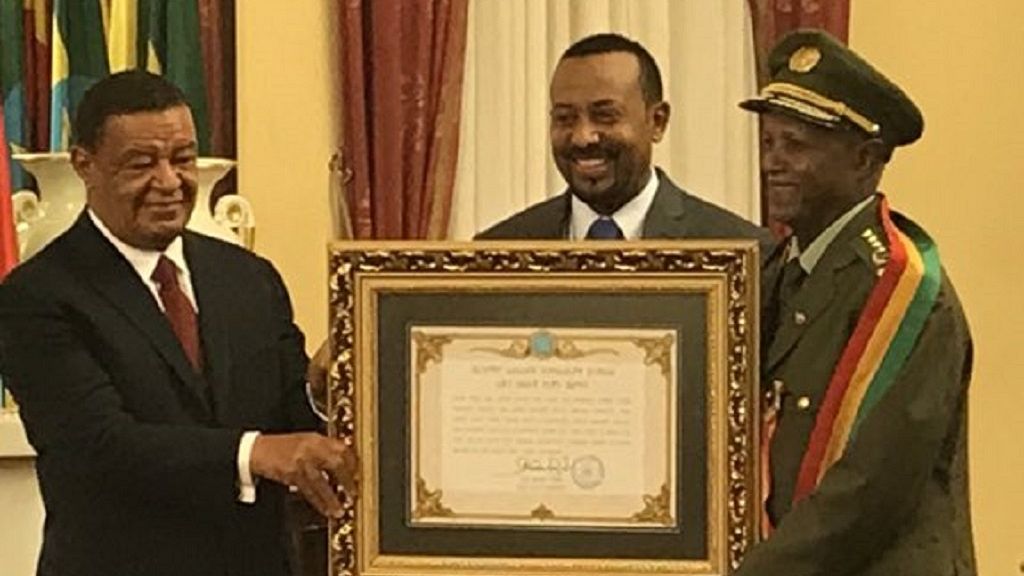 June 7, PM Abiy and President Teshome Mulatu with newly appointed head of the Ethiopia National Defense forces, General Seare Mekonen. Seare replaced General Samora Yunis.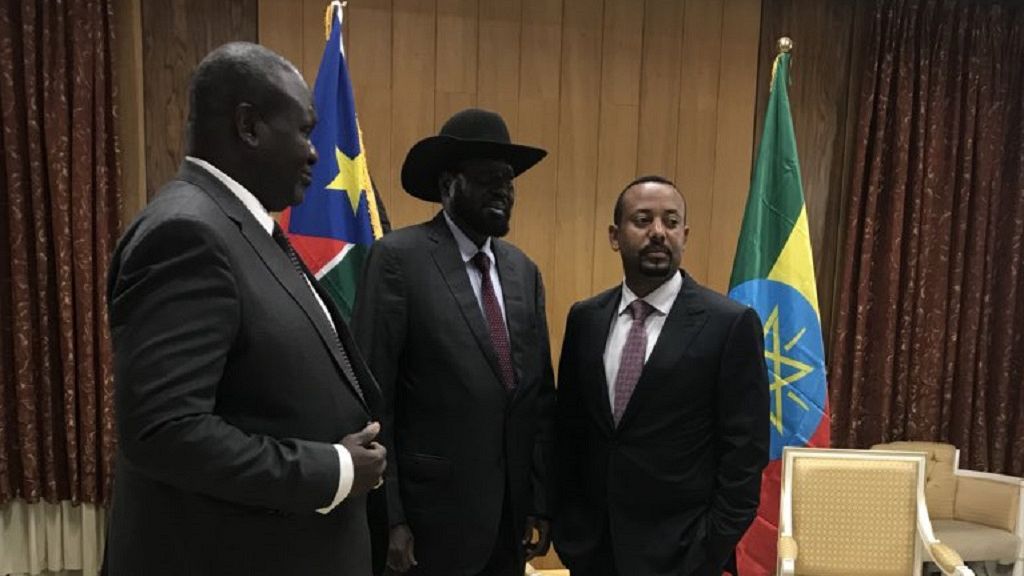 June 20, PM Abiy Ahmed hosted a private dinner to President Salva Kiir & Dr Rieck Machar together. The two met for the first time in two years.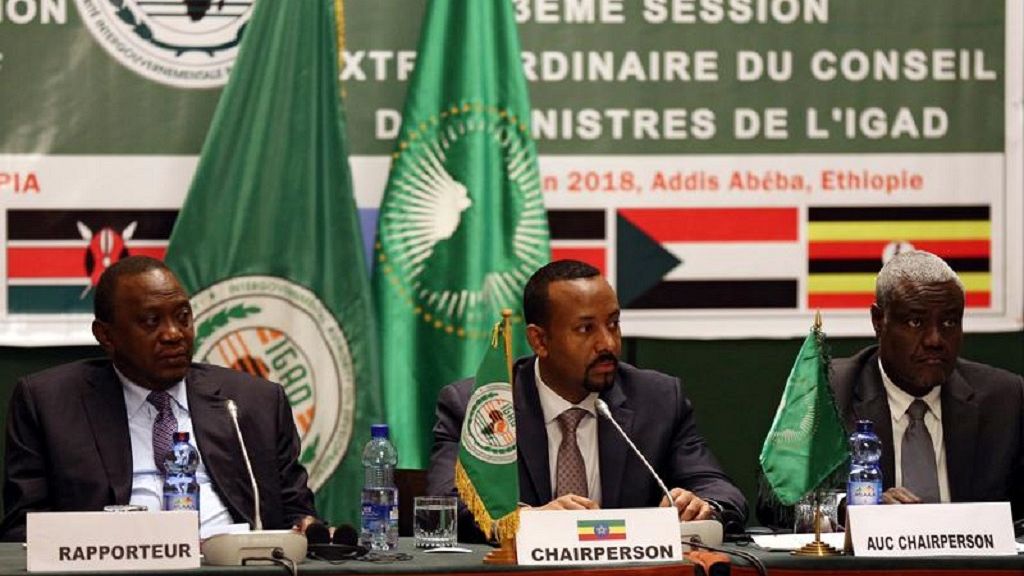 June 21, Kenya's President Uhuru Kenyatta (L) and Ethiopia's Prime Minister Abiy Ahmed © and Africa Union (AU), Chairperson, Moussa Faki attend the Intergovernmental Authority on Development (IGAD) extraordinary summit for South Sudan negotiations in Addis Ababa, Ethiopia June 21, 2018.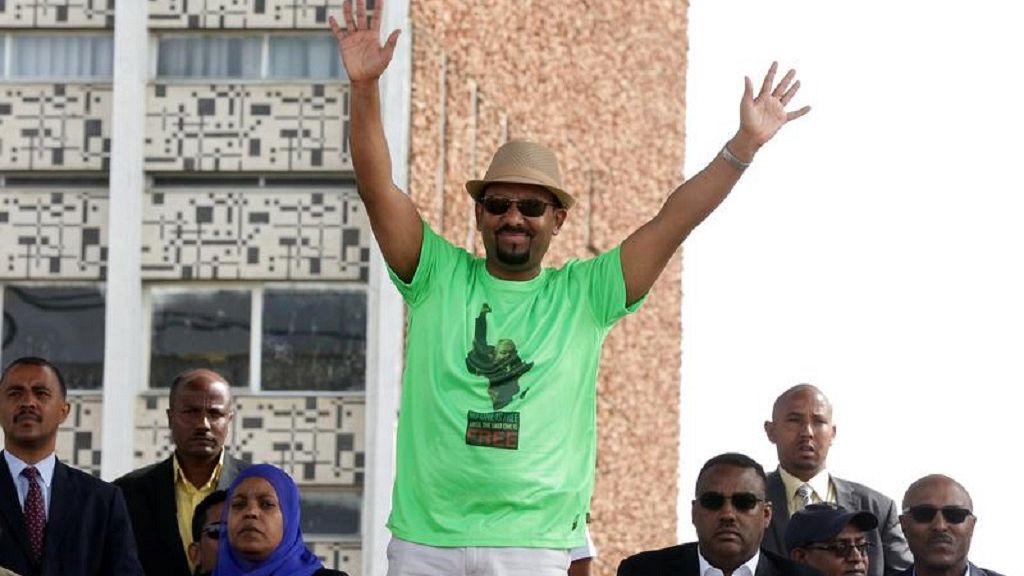 Ethiopian Prime Minister Abiy Ahmed waves to supporters as he attends a rally in Addis Ababa, Ethiopia June 23, 2018.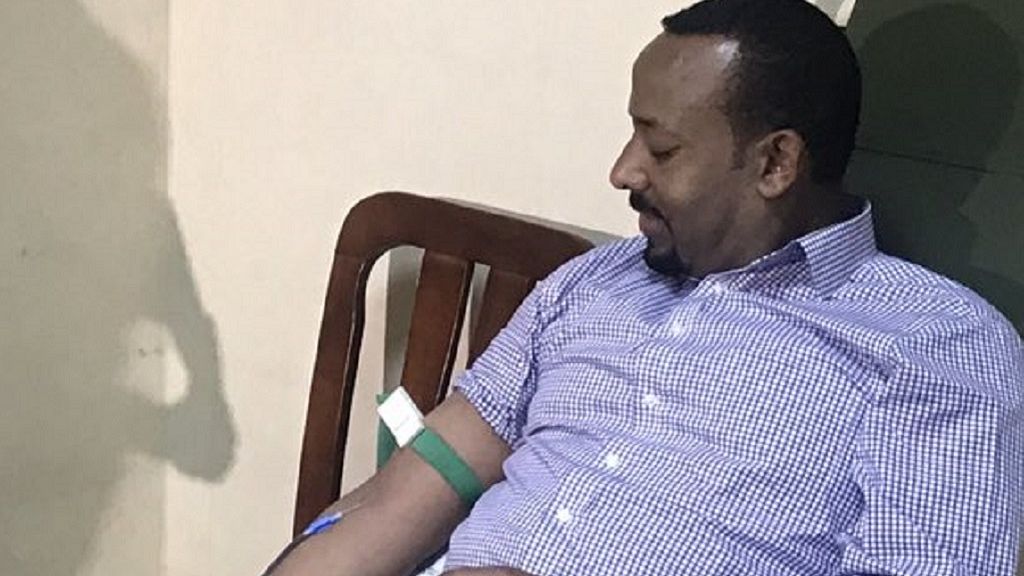 June 25, PM Dr Abiy Ahmed donates blood to the national blood bank to show solidarity to the victims of the cowardly attack at Meskel Square in Addis Ababa.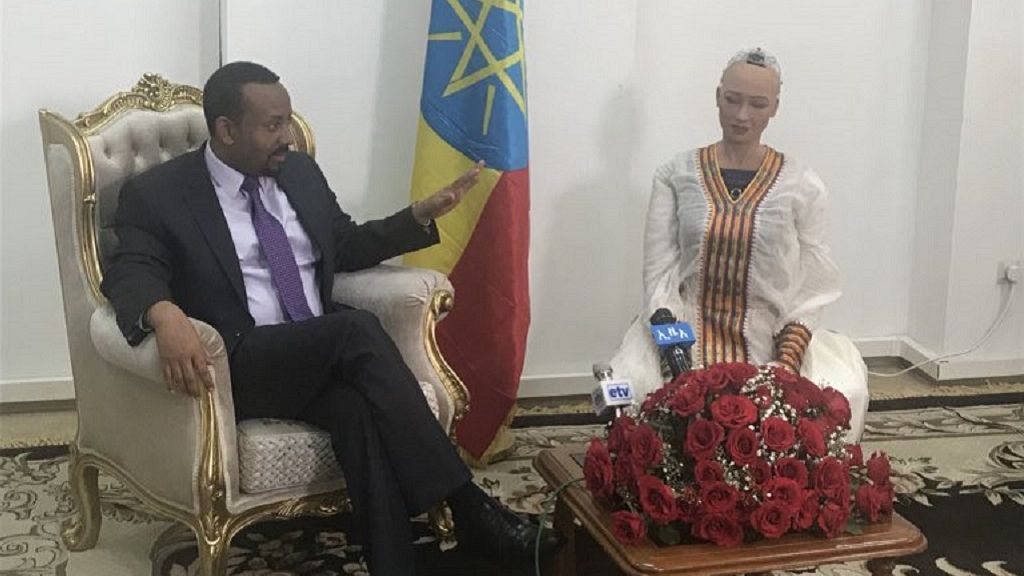 July 2, Sophia – the first humanoid robot-today visits HE PM Abiy during a trip to Ethiopia.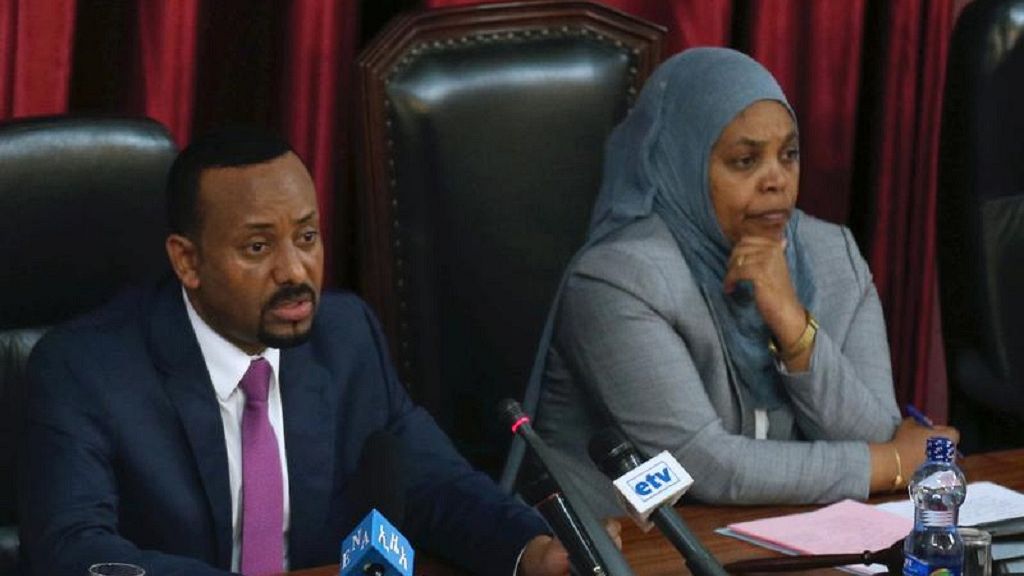 July 6, Prime Minister Abiy Ahmed (L), flanked by parliament speaker, Muferiat Kamil, addresses the members of parliament inside the House of Peoples' Representatives, during a meeting for the approval of 2018/19 budget in Addis Ababa.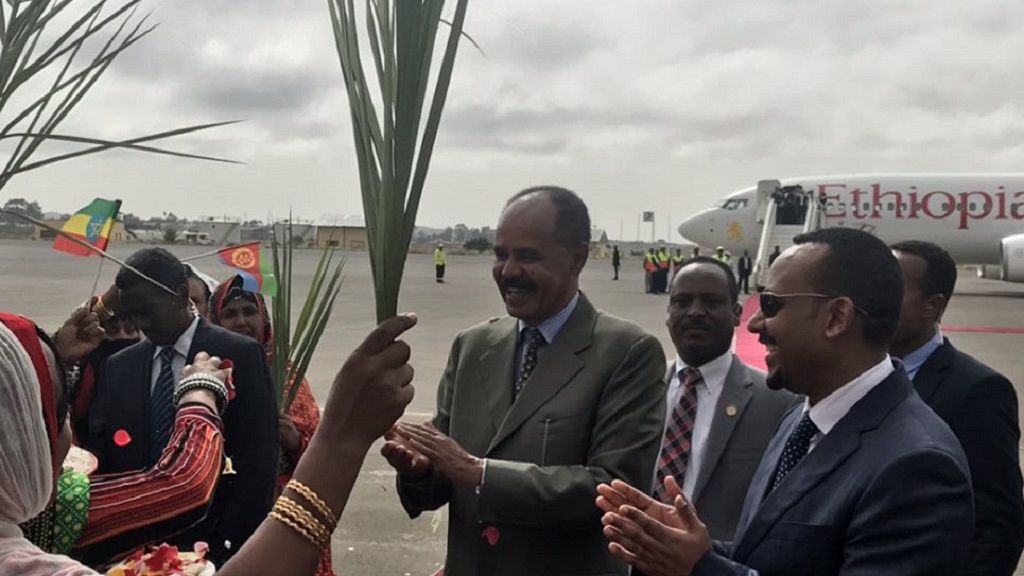 July 8, Abiy Ahmed is very warmly received by HE President Isaias Afwerki & an amazing number of people when he arrived in Asmara for this historic visit.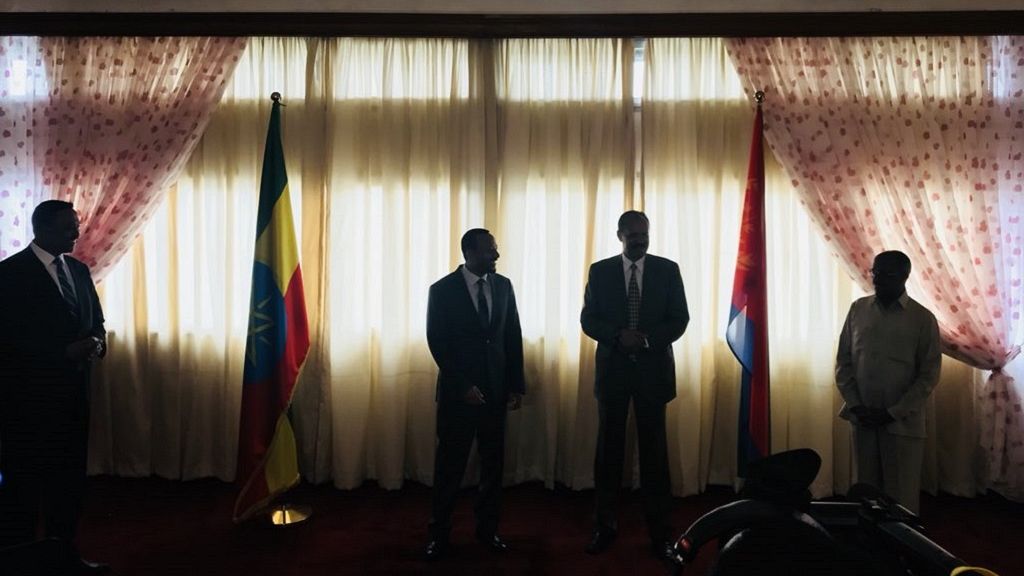 July 16, after close to 2 decades, Eritrea reopens its Embassy in Addis Ababa in the presence of the two leaders.