Surgeons in Zambia have sucessfully separated seven-month-old conjoined twins in a landmark operation in the capital Lusaka, the Mwebantu news portal reports.
The surgery was done at the Women and New Born hospital in Lusaka. A senior medical superintendent at the facility told the media that the operation was completed at 16:58 hours local time.
"A lot of progress has been made. In fact great progress, … the twins have been separated. They were separated at exactly 16:58 hours.
"However, there is still a lot to be done in terms of closing up the wounds and we anticipate that the surgery will continue for an hour and a half to two hours. We hope by 20:00 hours they will be in ICU," said Dr Maureen Chisembele.
A team of 30 health professionals on Friday (February 2) operated the twins who are joined at the abdomen and shared a liver. Reports indicate that it took seven hours to execute the mission and the children have left the operating theater.
The children – Bupe and Mapalo, were born in the town of Kawambwa located in Zambia's northern Luapula region but they were transferred to the capital for further attention.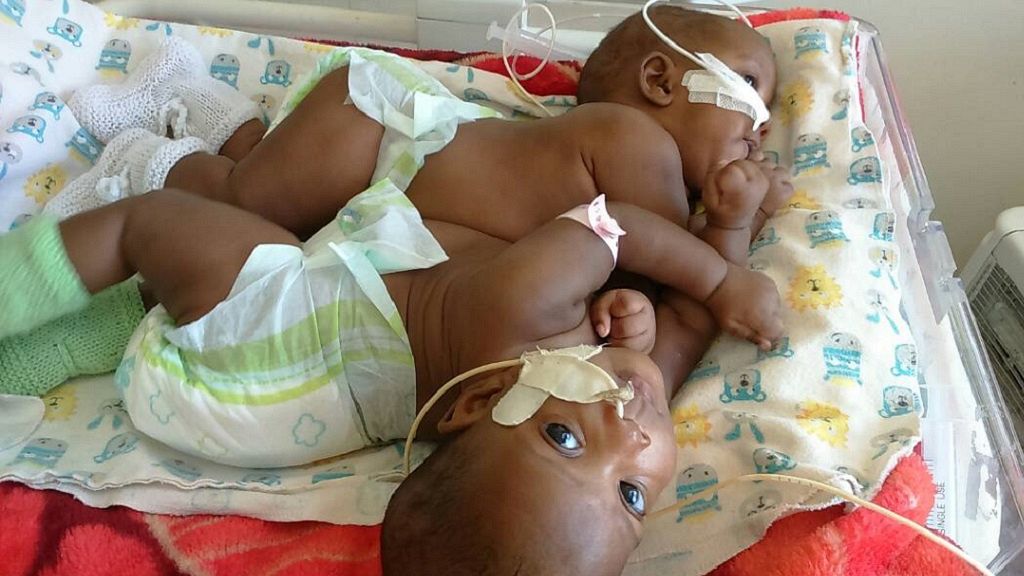 UPDATE: SIAMESE TWINS SEPARATION: On-going consultations between the operating team of Dr Bruce Bvulani and Dr Robert Zulu and the senior consultants Dr Chadwick Ngwisha, Prof Lupando Munkonge and Prof Tackson Lambert. Glory to God. (Pictures by Dr Kachinga Sichizya).. pic.twitter.com/qQeVNDtGcB

— Mwebantu (@Mwebantu) February 2, 2018
In September 2017, lead surgeon Bruce Vulani indicated that the twins who at the time were 3 months old could only be separated after 6 months to allow for more skin to grow on their bellies where they were joined.
Dr. Chisembele explained that the babies remained in good health and were luckily not sharing major tissues such as liver and intestines. The medical team that separated them comprised local doctors.
The twins were identified as omphalapogus twins, a rare kind of birth in Zambia and that the major cause is incomplete division of one fertilized ovum.
Omphalopagus are twins who are connected from the breastbone to the waist and about 33 percent of all conjoined cases in the world are categorized as such.