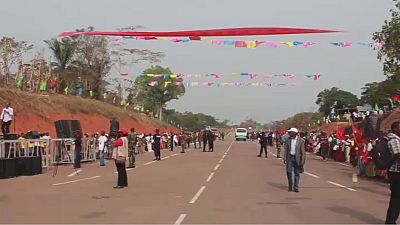 President Denis Sassou Nguesso has inaugurated a 160 kilometer paved road between Ketté and Sembé in the Department of the Sangha in the north of Congo.
At a cost of 100 billion FCFA, the construction of border road linking northern Congo and south Cameroon span 42 months.
The work of the second section of 144 km that will link Sembé south Cameroon is expected to begin in the coming days the Congolese Minister major works announced.
"We will begin the second stretch of 144 kilometers , which remains possible. is only a matter of days actually",Jean- Jacques Bouya said.
The road is part of infrastructural development to boost regional trade in Central Africa.