For many black South Africans racial utterances on social media this weekend took them back to what some have described as the "darkest period in their lives"- referring to the racial segregation era which span 46 years.
Twitter and Facebook in South Africa have gone into a frenzy, following a post by real estate agent Penny Sparrow describing black beachgoers as 'monkeys'. Sparrow made the remarks after reportedly seeing pictures of local beaches in the city of Durban packed with people and strewn with litter over the New Year.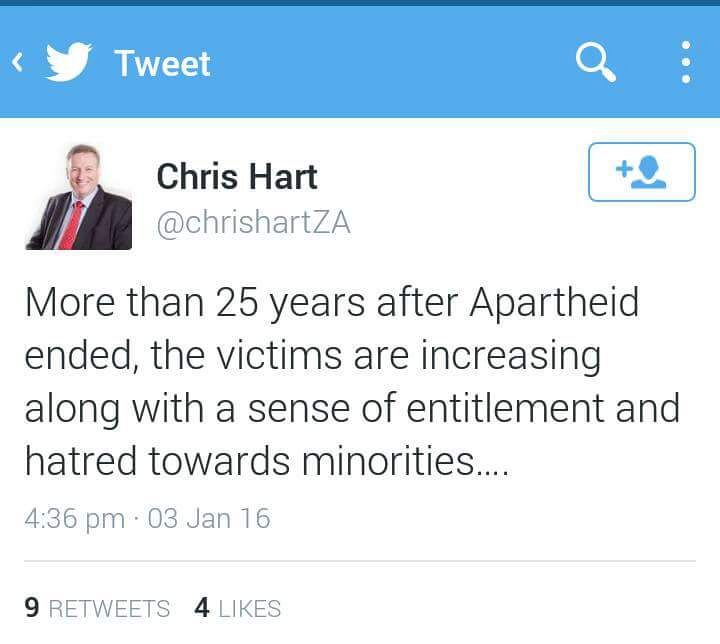 A series of social media posts have since been streaming in, with many black citizens posting images, which serve as powerful reminders of how the regime separated the blacks from the whites
'They wanna keep it this way, on whose land?…. as if this was just made for them,' read one caption from a Facebook user, referring to a picture of a bi-law of the city of Durban which restricted black people from bathing in an area strictly reserved for white people during apartheid.
The ruling African National Congress (ANC) in a statement said the remarks are reminiscent of the apartheid attitude towards the indigenous people of the country. The statement also said the remarks also degrade black people as people not deserving of using the beaches in their country of birth.
Earlier today, Sparrow posted an apology, saying she 'made a mistake of comparing them [black people] with monkeys. "Monkeys are cute and they're naughty, but they [black people] don't see it that way, but I do because I love animals," she wrote.
Her former employer, Jawitz Estate Agency whose logo she had been using on her profile says Sparrow's comments have damaged the company's reputation and she must account for her actions. Jawitz says it will be taking legal action against her.
In a separate incident, renowned economic analyst and Global Investment Strategist at Standard Bank Wealth and Investment, Chris Hart on Sunday also took to Twitter with a post said to have racist undertones.
"More than 25 years after apartheid ended, the victims are increasing along with a sense of entitlement and hatred towards minorities," said the tweet.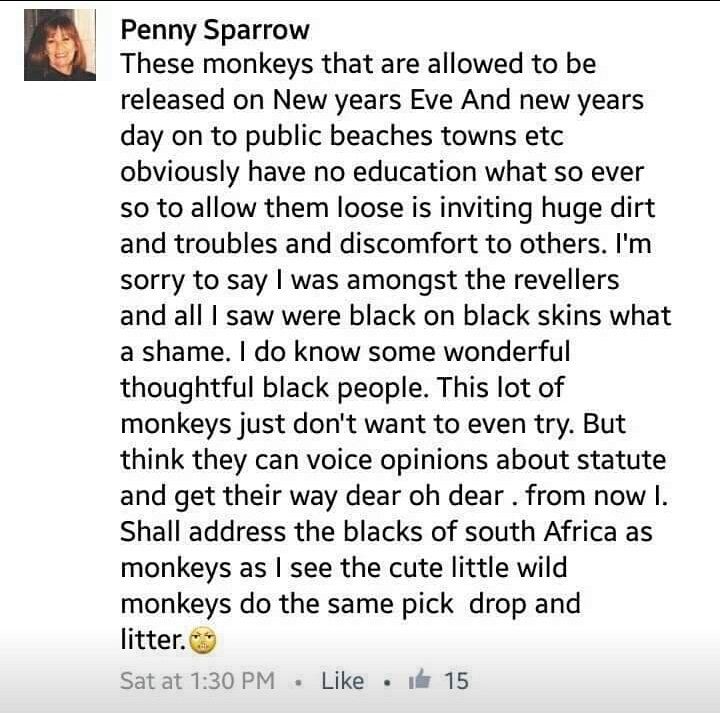 Hart, too, received a heavy backlash, with one political analyst and broadcaster Eusebius Mckaiser calling on media houses to commit to feature economists who come from more diverse backgrounds and with greater range of economic viewpoints in 2016
Mckaiser said for the reason that Hart is uncritically quoted by media, he probably will not feel the pressure to think.
He was later suspended pending an investigation.